Double piercing earrings ideas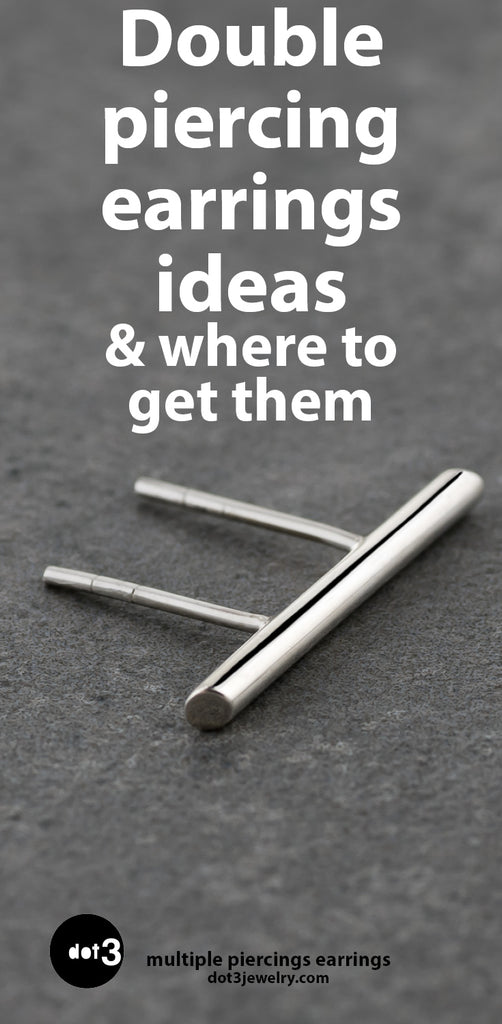 Double Piercing Earrings ideas 
As multiple piercings become more and more popular finding earrings that make you stand out from the crowd and work with two of your ear piercings is not an easy feat. You can mix and match stud pairs on your lobe or wear a lobe and helix double piercing combination.  
These are ways to style your double piercings and where to find them
Double lobe piercing
If you have two ear piercings on the same ear it's most likely to be two lobe piercings. Many of us had these done when we were much younger, and jewelry was not so dainty. Wear two simple matching studs for an easy go to earring combination for every day wearing. Try wearing two different sized earrings to create a graduated look. Our River Pebble Studs are the ideal type of earring to style this look with.
Gold Long and Short Pave bar set 
Mismatched studs
Mismatched studs can be worn on separate ears, but you can use these to create charming stories on just one ear. Similar themed symbols such as moon and stars can create playful combinations when worn on the same ear. If you're looking for something more stylised than a linear combination of mismatched studs, our pebble studs are perfect for you. They are ladylike with their organic and asymmetric shapes and we love mixing different sizes to create a cool graduated effect.
More Double Piercings ideas here
Hoop and Stud Combination
Having played around with studs the easiest two piercing update is to wear a hoop earring in your second ear piercing. Hoops make a lovely feminine and stylish addition to your earring stack whether you're wearing them on a lobe or a helix piercing which is slightly further along your ear. If you're wearing both the stud and hoop on your lobe you can swap the earrings around to fit different styles and accommodate for different earring sizes. Go for a geometric shape rather than a perfect circle or a "huggie hoop" which fits snuggly around your ear looking modern and delicate. Mix our river pebble studs with our collection of girlfriend hoop earrings. They are destined to be the perfect best friends.   
The double stud and chain
Having two studs that are linked by a chain is a smart way to wear one earrings across two piercings as the one earrings does all the work of two. Connecting two studs by a chain means they will fit any ear lobe or if you have a higher cartilage piercing you can wear these studs spaced further apart. It also doesn't matter which ear you have your double ear piercing on as this earring would work on a right or left ear unlike some double piercing earrings which can only be worn either the right or the left ear. This is a hard style to mimic if you only have one ear piercing as you'll need a cuff to hold the second stud in place and this is not going to be as secure as a second ear piercing.
Earring: My 2 bodyguard by Dot3
The double post
You know what they say – two posts are better than one.
Earrings with two posts are still emerging on to the earring scene. They can be slightly trickier to wear as this will depend on how far apart your double ear piercing is. However, they are sleek way to wear a bar earring and with two posts on the back earring is going to be more secure than just one. This will keep the weight dispersed across your ear and relieve any pressure on just the one piercing. The linear and graphic lines in this style makes it modern and minimalist while the drama of these earrings is all in the placement and detailing of the earring.
 Charlotte Chesnais Hook earring
Two Hoops
Wearing two hoops on the same earring is the simplest way to create a chic and understated look with two earrings. We created our girlfriend hoop earrings with different shapes so that you can mix and match to your hearts content.  From D ring hoop earring to striking triangular hoops each one has a different personality, but they go great together. 
A double ear piercing is a great way to update your wardrobe and to express your own creativity with your earring placement. Use your earrings to create an effortlessly cool laid-back look or wear a statement earring which will have heads turning.