Triple piercing ideas for every occasion and where to find them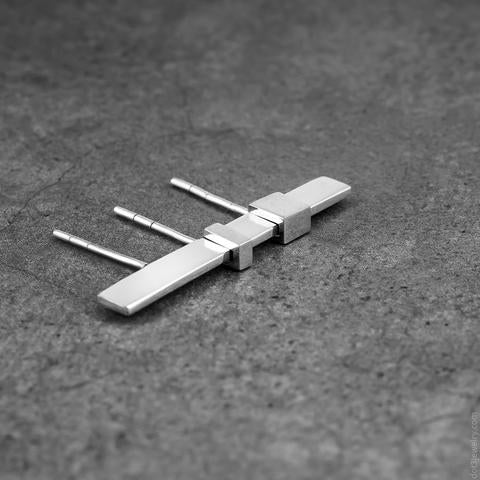 Triple piercing ideas for every occasion and where to find them
Having three ear piercings is no longer for just the rebellious and the bohemian, as dainty and elegant earrings are gracing the ears of the young and old. Modern ear piercings are fitted, delicate and feminine. No longer are you limited to just wearing chunky steel earrings. Now you can mix and match studs to create the perfect "ear party".  There are no rules when it comes to styling three ear piercings; whether you have three lobe piercings or a piercing higher up your ear, there isn't a part of your ear that you can't adorn.
'Everyday use'
Don't be afraid to incorporate triple piercing earrings into your everyday wardrobe as not all jewellery has to be for a special occasion. Having a second and third ear piercing is now the norm, and it's the perfect way to wear even more jewelry especially as earrings are getting smaller and sleeker. So why not get creative your earring placement. You can create beautiful geometric lines across your ears by choosing the placement of your ear piercings. Three-lobe piercings are a gorgeous way to stack your studs and get cascading gems all the way along your ear.  
 Follow our simple guide for unique piercing ideas 
Chains and threaders
Chain earrings are a quick update that you can wear regardless of the number of piercings that you have. Threaders do lend themselves to triple ear piercings as you can buy one earring and thread it through several ear piercings. Thread the chain under and over your ear to create a look like layered hoops or straight across for a stitch style piercing.  If you don't want to loop the chain through your ear piercing, then you can wear these as standalone earrings with the hanging chain to create a simple evening look. Threaders and chains offer something a little different to the usual hoop and stud combination. 
For stitch style
Constellation
You could almost call this trend a little star-studded. The constellation ear piercings are all about earring stacking and is a smart way to style your earrings if you're ear pricings are close together or even a little wonky. Stacking up earrings isn't anything new, but constellation piercings embrace the unique shape and geometry on every person's ear. You can get creative shopping for different sets of earrings, as each one is unique there is no "right" way to style these earrings. Three is the magic number when it comes to having a constellation style piercing as it can't be done with just two ear piercings. This style of piercing is excellent for anyone who's not ready to take the plunge on having their cartilage pierced just yet.
 Cuffs and wraps
If you love hoop earrings, then this will be the best way to show off your triple ear piercings. You could try and create this look by using three hoops, but it's often challenging to find hoops sold individually and that match in metal colour and size. If you want to wear three hoop earrings across a triple ear piercing, we recommend keeping the hoops the same size and on the small side for a continuous sweeping look. Huggies are hoops which are close to the ear and essentially hug your ear. Huggie hoops look much more modern than traditional hoops earrings and even better when you wear three in a row.
If you like the idea of graduating the hoop sizes, this looks best when worn with just two hoops across a double piercing. The benefit of using one earring across all three ear piercings is that the hoops will all face the same direction and won't knock against each other.
If you've got three ear piercings, then you'll know having the real deal looks much more sophisticated than an imitation pair. We all have unique ear shapes; even our ears are not symmetrical, so an earring designed to imitate having a triple ear piercing won't be a perfect fit for your ear and can look a little juvenile. Wearing an earring that gets you the look without the second or third piercing will only add more pressure to your one ear pricing which could damage it if you wear those earrings often.
Look out for designers that sell sets of three earrings or individually. You'll have more success matching the tone and colour of the metal together. Buying sets of earrings will also keep the synergy between your earrings for a more curated and polished look.
Designers such as Astley Clarke, Stone and Strand and Ivy & Lily offer sets of three so you don't have to buy two pairs and end up with a spare. These are assorted so that no earrings are alike and you'll get an instant curated earring set without having to make your own from scratch. Buying sets of three is also a great way to match the metals and get three earrings that compliment each other perfectly. 
At Dot3 we have many earrings designed that you can wear across three ear piercings. What's unique and special about our earrings for triple ear piercings is that they are designed for style but also comfort and fit so that each earring will naturally fit the wearer and not strain your ear.